The 2018 Global Business Leaders Summit and the Lalu Forum were held in Nanjing on April 1, when more than 800 people gathered together, including cross-strait business men and international entrepreneurs, who expect to achieve mutual benefit and win-win result through multilateral cooperation. Jiang Xipei, Founder, Chairman of the Board and Secretary of the Party Committee of Far East Holding Group, was invited to attend the summit and deliver a speech entitled From Rapid Growth to High-Quality Development—How Should an Enterprise Tackle Problems. Jia Hai and Guo Xiaoheng, investors and Vice-General Managers of the Strategic Customer Center of Far East Smarter Energy Co., Ltd. (hereinafter referred to as "Smarter Energy", stock code: 600869).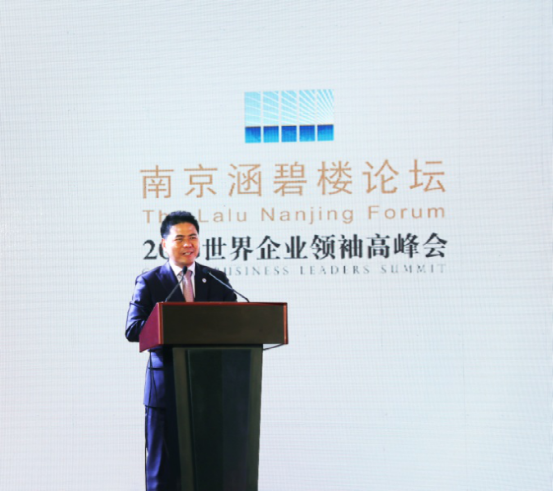 Jiang Xipei delivers a speech
  Jiang Xipei believes that it is the best time for China's economic and social development. 40 years of reform and opening up has witnessed great changes in China, and the future will continue to amaze the country. This is because China has a leader full of wisdom, mind and power, as well as high aspirations. It is the best way to be a government official who can keep the same mind with the Party Central Committee and the country, and whose heart can be linked with the hearts of the public. However, for an enterprise, it is the best method of business to follow the pace of the country and focus on customers under the most favorable circumstance, so as to win the greatest trust and respect. He said, "I am absolutely certain that the history of China's rapid growth and even barbarism is gone forever. How to realize better and more comprehensive and sustainable growth, therefore, has become the shared responsibility of all entrepreneurs. We hope that humans, along with their life, can get better and better." It is the responsibility and obligation of entrepreneurs to take on more important tasks, and they should win the market and customers with their best quality products and service.
  He expressed that since the establishment 33 years ago, Far East always adheres to the mission of "creating value, serving society and benefiting everyone", aiming to satisfy customers, employees, shareholders, governments and society. For more than 20 years, Far East Cable has always played a leading role in the industry, and the subsidiaries of Smarter Energy, such as Beijing Jinghangan Airport Engineering Co., Ltd., Shanghai Intelligent Power Co., Ltd., Beijing SEMEUREKA Electrics Co., Ltd., and Far East First New Energy Co., Ltd., are also industry leaders. Adhering to the development strategy of "main business + investment", Far East has invested 340 enterprises, 98 of which have been listed. He said, "The recognition and support of global users are essential for our development. We hope, through innovation and creativity, to make products needed by the market, solve the problems for customers, and especially address some major issues for society. This is also the goal of a great enterprise."
  Jiang Xipei stressed, "in the future, we will work with all of you to create a better business environment and a sound public opinion environment, to co-promote the construction of the legal environment". Such laws as the Intellectual Property Protection Law, the Product Quality Law, the Law against Unfair Competition, and the Law on Tenders and Bids have been optimized in China, which will better release institutional dividend and stimulate the entrepreneurship.
  As he talked about, in April 2017, the Central Leading Group for Comprehensively Deepening Reforms introduced opinions on further carrying forward the entrepreneurship; in September 2017, the Communist Party of China and the State Council introduced opinions on creating a favorable environment for healthy growth of entrepreneurs and carrying forward entrepreneurial spirit to make their roles better played. It is thus clear that the community, the Party and governments fill with concern and expectation of entrepreneurs. One shall have his piece of mind when he has a piece of land. He believes, therefore, following the way of thinking of others at any time can make enterprises and society better.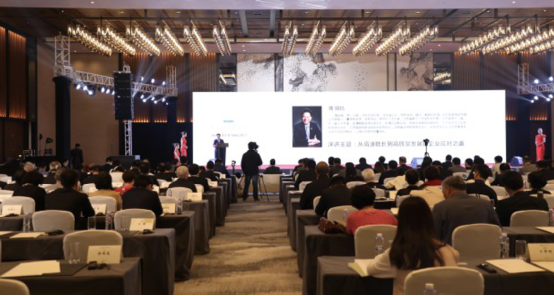 Since the establishment in 2014, the Lalu Forum, as a non-profit non-governmental organization founded by well-known entrepreneurs at home and abroad, has provided numerous opportunities for the dialog for the fields of politics, industries, education and research in the regular-meeting form, and has become an important platform for the communication and cooperation of cross-strait entrepreneurs. This forum is themed with the "Corporate Responsibility and Strategic Choice for High-Quality Economic Development".