Between April 8 and 11, the Boao Forum for Asia (BFA) Annual Conference 2018 was grandly held in Hainan, themed with "An Open and Innovative Asia for a World of Greater Prosperity", divided into four modules of 65 formal discussions, namely "Globalization & the 'Belt and Road' Initiative", "An Open Asia", "Innovation" and "Reform." Attendees totaled more than 2,000 people from 63 countries and regions, 1,645 of whom are business representatives, accounting for 82%.
  Jiang Xipei, Founder, Chairman of the Board and Secretary of Party Committee of Far East Holding Group was invited to attend this conference, and discuss new opportunities in the new era with elite representatives from all walks of life. Accompanying with Jiang Xipei, Jiang Chenghong, Chairman, and Founder of Beijing Linyun Information and Technology Co., Ltd., Chen Xiaofen, an investor, and Senior Consultant of the Department of the Capital Management of the Group, and Guo Xiaoheng, Vice-General Manager of the Strategic Customer Center of Far East Smarter Energy Co., Ltd. (hereinafter referred to as "Smarter Energy", stock code: 600869), also attended the conference.
  According to the report made at the General Meeting of Members, the reverse globalization of global economic development is on the rise, as well as the protectionism of trade and investment. Therefore, it is a mission of all countries in Asia and even the world to build a community of common destiny, and promote common development and prosperity of the world. Taking on the mission of entrepreneurs, Jiang Xipei is an active participant in such discussions as the CEO Round Table, the Night of SINA Finance—Night Talk of Zhisland, the Women's Round-Table Forum, the Sino-Japanese Entrepreneurs Dialogue of the CEO Round-Table Forum, and the Cross-Strait Business Roundtable. He was also interviewed by Tencent Finance, Talents Magazine and SINA Finance, to make suggestions for the current economic globalization.
  Reduce investment costs for the co-construction of high-quality and sustainable development
  During the BFA Annual Conference, Jiang Xipei attended the CEO Round-Table Forum. With well-known enterprise CEOs in China, such as Cao Dewang, President of Fuyao Glass Industry Group Co., Ltd., Dong Mingzhu, President of Gree Electric Appliances, Sun Pishu, President and CEO of Inspur Group Co., Ltd., and Zeng Qinghong, President of Guangzhou Automobile Group Co., Ltd, he discussed three aspects in the context of the "Belt and Road" Initiative: how does the capital respond to increasingly complex geopolitics; how should enterprises cope with changes beyond expectations; how to revitalize entrepreneurs.
  Jiang Xipei expressed that since the two sessions were convened, a series of major national initiatives covering laws and regulations, as well as the institutional reform of top-down design, have been introduced. Enterprises should keep the same mind with the country, and actively deal with the changes in market environment with an entrepreneur's sense of mission.
  "It is highly necessary to follow the pace with the country. We should abandon dogmatism, bureaucratism and formism, committed to high-quality and sustainable development." Jiang Xipei said. Enjoying the modern urban life is what the public need. Following this trend, urbanization is an inexorable law. The beautiful countryside construction needs substantial investment. As a result, is it possible to speed up the development of urbanization, improve development quality, and promote sustainable development, by reducing the number of towns and administrative villages?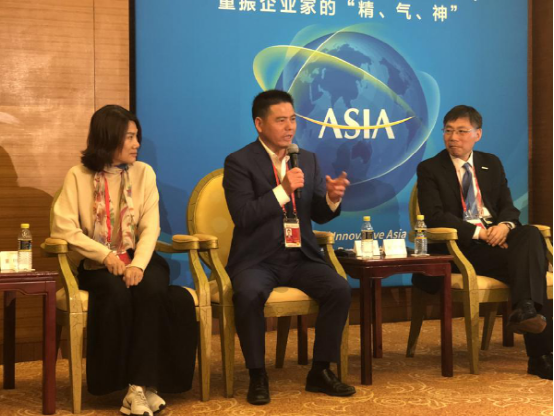 Jiang Xipei delivers a speech at the CEO Round-Table Forum
  Control risk for entrepreneurs to develop according to their abilities
  At the activity of the Night of SINA Finance—Night Talk of Zhisland, centered on "sharing China's new opportunities in the new era", Jiang Xipei said, "we should adhere to the principle of doing what we can do". The next decade or two may witness the best China, and even the three or five decades. Entrepreneurs, therefore, must accurately grasp the opportunity, step with the times, and win the market with quality products and service.
  With the help of the "Belt and Road" Initiative, China has made significant progress, bringing new opportunities for every walk of life. Jiang Xipei stressed that enterprises must control risks to ensure high-quality development, especially such risks as legal risk, financial risk and employment risk.
  Jiang Xipei attends the Night of SINA Finance—Night Talk of Zhisland
  Improve the legal system to respect "she-power"
  On April 10, Jiang Xipei attended the Women's Round-Table Forum of the BFA Annual Conference 2018, gathered together with Xie Shumin, the wife of Zhou Wenzhong who serves as Secretary-General of the BFA, Shan Jixiang, Director of the Palace Museum, Sherry Madera, Special Adviser for Asia of the City of London, Qu Cuirong, CEO of Yum China Holdings, Inc., Actress Liu Tao, as well as Jan Adams, Ambassador of Australia to China, and discussed the non-negligible role of women in the development of society centered on "she-power".
  "Respecting women based on the social concept is not enough, we should improve the legal system at the national level, to create a fair legal environment, provide broad development space for women, and reinvigorate the market." Jiang Xipei appealed.
  "One who does not value women will suffer losses, no matter where he is, at an enterprise or home, or even in a country." Jiang Xipei highly praised women's creativity during the promotion of social progress and economic development. He said that 45% of Far East's employees are women, as well as 46% of managers and technical cadres. So many female employees boost potential, helping the company move into a new era of development.
  The scene of the Women's Round-Table Forum
  Obey the code of ethics because reverse globalization will not be accepted
  At the scene of the BFA, Jiang Xipei accepted an exclusive interview from Tencent Finance, and answered the reporter's questions on trade friction and others.
  "The trend of reverse globalization will not be accepted," Jiang Xipei said. "It violates the law of market development and is not in line with people's expectation. So it will not run long."
  As the economic globalization deepens increasingly, the Internet and the Internet of things have closely connected the whole world. Jiang Xipei said that communication between each other can resolve differences to find a better way of cooperation.
  Jiang Xipei accepts the exclusive interview from Tencent Finance
  Set an example by personally taking part in enhancing deep cross-strait cooperation
  Jiang Xipei expressed deep expectation for strengthening cross-strait cooperation at the Cross-Strait Business Roundtable. "Our group headquarters is located in Jiangsu where most of Taiwan businessmen gathered. Far East has set an example by taking part in the promotion of cross-strait development and exchanges, as well as deep cooperation with Taiwan businessmen." Jiang Xipei said.
  He also thinks that it is particularly important for an entrepreneur to possess a good legal environment, public opinion environment, and business environment. Institutional dividend and credit dividend have been released thanks to the improvement of these environments in Mainland China. A series of national measures have been introduced to support Taiwan's enterprises and compatriots in the development in Mainland China in the aspect of treatment. It is expected that Taiwan and Mainland China continue to enhance and expand the cooperation, and seize new opportunities for the development.
  The Cross-Strait Business Roundtable
  Intelligent automobiles have brilliant prospects
  When accepting an exclusive interview from SINA Finance, Jiang Xipei expressed that in the next three or five years, intelligent automobiles and driverless cars will become increasingly popular, and problems in technology and costs will be solved efficiently.
  He thinks that in both energy consumption and safety, intelligent automobiles have considerable prospects for the development. In addition, since the technology has made a great breakthrough, it is believed that intelligent automobiles and driverless cars will be throughout the world in the future.
  The BFA Annual Conference 2018 concluded on April 11. Jiang Xipei expressed that he benefits greatly from the forum every year. Entrepreneurs should keep the same pace with the country and undertake their responsibilities, so as to provide quality products and service for society, and fulfill the national strategic goal of high-quality and sustainable development.