On April 13, Far East Cable Co., Ltd. (hereinafter referred to as "Far East Cable"), a wholly-owned subsidiary of Far East Smarter Energy Co., Ltd. (hereinafter referred to as "Smarter Energy", stock code: 600869), was invited to attend the Supplier Conference 2017 of China Electronics System Engineering No. 2 Construction Co., Ltd. (CESE2). Beating more than 100 suppliers, Far East Cable was finally awarded the honorary titles of the "Best Quality Award" and the "A plus Level Excellent Supplier", and became the only enterprise receiving this award in the wire and cable industry.
  Chen Haiping, an investor, Senior Director of Smarter Energy, Supervisor of the cable industry, and Vice-General Manager of Far East Cable, Ding Dean, an investor, Marketing Director of Smarter Energy and Senior Marketing Director of Far East Cable, and Yang Huanliang, an investor and Marketing Manager, were invited to attend this conference.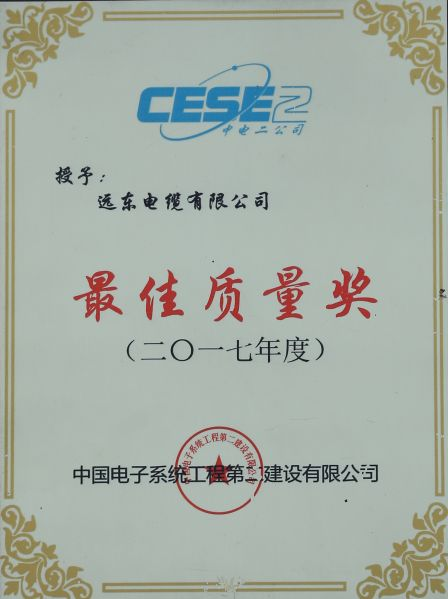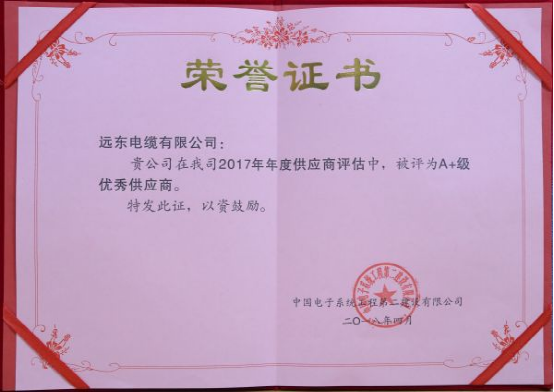 Certificate of Award
  Chen Haiping (second from the right) represents Far East Cable to receive the award
  Ding Dean (first from the left) represents Far East Cable to receive the award
  Far East Cable pays much attention to "Quality, Brand and Service" to win the market, and with the mission of "creating value and serving society" to provide quality intelligent cable products and system solutions for customers. It has established strategic partnership with numerous enterprises, including the enterprises of the Fortune Global 500 and the Top 500 Enterprises of China, as well as industry leaders.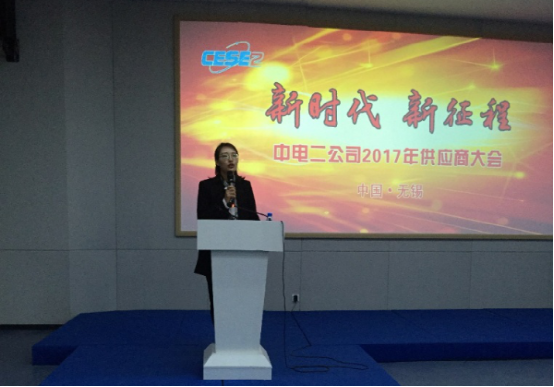 Chen Haiping represents Far East to make a speech
  Chen Haiping pointed out that the fact that Far East Cable won the two titles has not only demonstrated the superior strength of Far East, but embodied Far East's strategy, as well as the feasibility and superiority of its solutions. Far East Cable signed a strategic cooperation agreement with CESE2. Both sides cooperated with each other in the fields of smart city and intelligent building, to promote the development the two fields with their quality products, superb technology, efficient service, and excellent programs.
  In the future, continuously depending on the integrated and international platform of its parent company—Smarter Energy, Far East Cable will adhere to the development idea of innovation, coordination, green, opening and sharing, to provide more quality and competitive products and services for domestic and foreign markets in the fields of intelligent building, smart transportation, clean energy, and high-end equipment. The new era marks a new journey. Let's forge ahead with all strategic customers to create the future!